Our grandson "Bubba", just over a year old, sucking on the head of a baby octopus at the Teppanyaki Grill in Lafayette, Indiana.
I'm sure a lot of people will look at the above image and blanch at it, doing a double-take, even a spit-take, gagging, wondering out loud "Who gave that poor child a baby octopus? That's disgraceful, I really need to say something!"
What the above image says more than anything else is simply this: Food fears, feelings of revulsion and disgust at certain foods, is obviously taught and learned. It's not an inherent thing whatsoever. When we're little, young, and not yet revulsion-impaired, we'll eat pretty-much anything.
Giving Bubba that whole baby octopus was so much fun, because it totally grossed out his mommy, who looked at me and exclaimed "Dad!!!"
The real issue isn't giving a small child a whole baby octopus. The issue is the standard response from what I call American Squeamishness.
I have to say though, our daughter isn't squeamish about food by any means. She enjoys eel, frog legs, calamari and other "nasty bits" far more than many other people. On a trip to Parris Island in South Carolina when she was 17, we constantly searched for the best gas station fried okra that we could find. She grew up butchering rabbits, which few kids like her have any clue about anymore.
But that baby octopus threw her for a loop. She just couldn't do it.

One of my plates at the Teppanyaki Grill in Lafayette, Indiana … Roast duck surrounded by, from bottom left, sauteed squid, spicy whole baby octopus, fried frog legs, and oysters in a sweet sauce.
Our personal food decisions are based on a developed sense of squeamishness, our wimpy minds controlling our stomachs. Corporate advertisers and their "studies" have created a large group of people who believe they have sensitivities to gluten, MSG, and even celery. Bullying by the likes of PETA get in the way of real issues related to food waste, overly-processed foods, and people and cultures who don't have enough food, or either not enough water or unsafe water. We're a young country with too much arrogance, our government acting like know-it-alls, with policies that are based on special interests instead of actual, honest knowledge, while the rest of the civilized world enjoys haggis, raw milk, foie gras, and other "banned" real foods.
We can do better. We just don't want to, and don't care enough to change.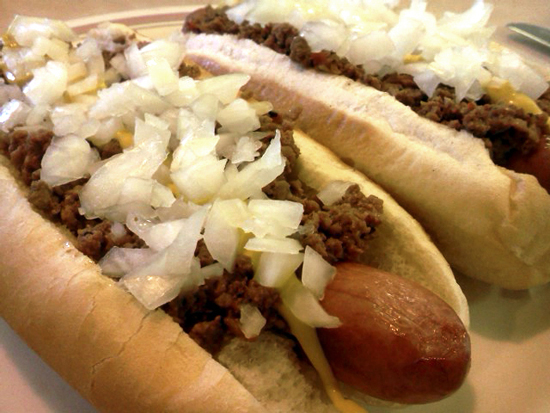 A pair of Flint-Style Coneys at Mega Coney Island in Fenton, using the ground beef heart base from Abbott's Meats, spiced by the restaurant's cooks, and served on Koegel Coneys.
At the American and Lafayette Coney Islands in downtown Detroit, coneys have been served since about 1917. We won't get into who was first or any of that nonsense, but the Greek family behind the two shops have always made their juicy sauce with ground beef heart. In 1924 Macedonian Simion Brayan started serving his coneys in Flint (seen above) with a dry topping of spiced ground beef heart, topped with yellow mustard and minced sweet onion. Todoroff's in Jackson had been serving coneys since 1914, switching to less-expensive ground beef heart in the early 1940s to save on costs.
I've been enjoying Flint Coneys since I was 7. But in many cases, if I tell someone there's beef heart on any of the above-mentioned coney types, they stop eating them.
Nothing physical changed, not taste, texture, etc. Only their perception of the dish changed, suddenly and supposedly making the Flint Coney, in some way, inedible.
Seriously.

My one-time personal nemesis, Steak Tartare, as made by Chef Tad Cousino.
At one point I had my own personal revulsion. Even though I always enjoy my steaks and burgers medium rare, cooked to 145 degrees and nice and pink on the inside, I had stated many times I would never eat Steak Tartare. Steak Tartare is a raw ground beef preparation of French origin, topped with a raw egg, with capers and onions, eaten with toast or crackers. The idea of eating raw beef was repulsive, even though I'd basically been eating it for some time.
And then the unthinkable happened. I was sitting in the former rendition of the Frog Leg Inn in Erie, Michigan, where my son and I had been talking with Chef Tad about their web site, when the Chef came from the kitchen and motioned us over. He placed the above serving of Steak Tartare in front of us, very proudly, saying he'd made it by request and wanted us to have some.
That was it. It would have been impolite and possibly insulting to refuse. There was no turning back.
Aaron and I tried it … and absolutely loved it. Our fears were unfounded. Not only did it taste amazing, but through the coming weeks it became clear we weren't going to become ill, either.
So much for what had turned out to be irrational fears.

Lengua Tacos, lengua meaning "tongue", this made with beef tongue, which I enjoyed at Esmerelda's in Monticello, Indiana, on August 5, 2015.
In thinking back on my up-bringing it has become quite apparent my dad got me interested in what I now know as cuisinology from an early age. I don't think dad ever knew beef heart was the main ingredient in his favorite coney topping. Dad passed away in December 2008, shortly after I'd learned the fact myself, and I don't believe I ever told him. But he was the one who took us to Palace Coney Island in the Genesee Valley Shopping Center west of Flint when it opened in 1970, and in the late 1980s and early 90s, when I lived on the east coast, he and mom would bring me frozen heart-based sauce from Angelo's. He would also make me sandwiches made with Koegel's Head Cheese, which I didn't understand till recently as well. And even though he preferred his steaks and burgers well done and said he disliked melted cheese because of the texture, he later developed a liking for Chinese buffets and would try just about anything else.
With my own kids I had a certain rule: They weren't allowed to say they didn't like a particular food unless they had Actually.Tried.It. Once they had tried it, then it was alright. But irrational fears weren't allowed. Of course, I have never considered eyeballs, gizzards, bull testicles or dried insects to be anything they would absolutely have to try. But they've enjoyed blood tongue sausage, grilled calves liver, eel, squid, octopus, and have butchered and eaten rabbits they've raised themselves, so they're more likely to try what may be considered more adventurous dishes anyway.

My kind of meat case, at Stanley's Market in Toledo in January 2016. The pig's head is a staple in Polish and other cultures, particularly for the cheek meat, ears, and for making head cheese. The whole head goes for $20.
All over this country are pockets of other cultures that many consider to be a bit strange. Just in the southern Great Lakes region there's the Mexican community east of Adrian, Michigan, and another in White County, Indiana. There are various Chinatowns in the larger cities, with other Asian and Mexican pockets in smaller cities such as Toledo, Ohio, Ann Arbor, Michigan, Lafayette, Indiana, and as far north as Grand Forks, North Dakota. Greeks and Poles are heavily represented throughout the Midwest, and the largest Muslim community in the United States is located in Dearborn, Michigan.
These are the places to find authentic cultural restaurants to help you get over your fears. Have some oxtail soup, some tacos made with beef tongue. Don't just have the calamari, but try the squid tentacles as well. Menudo is made by hand at many of the authentic Mexican restaurants, and the tripe is cooked properly so it's not chewy and gamey.
Soul food is a staple in the Detroit area, also referred to as Motown. Fried chicken gizzards are available in just about every soul food restaurant in the area. The preparation is so popular there's also a GizzardFest in Potterville, Michigan, normally in early June. The Pit Stop Pantry, in a gas station between Monticello and Monon, Indiana, offers both of their popular fried gizzards and livers to travelers and truck drivers. And in Deerfield, Michigan, the first Saturday after St. Patrick's Day, show up at the Testicle Festival for freshly cleaned-and-fried bull testicles.

A serving of Korean Hot Spicy Squid at QQ Kitchen in Toledo, which Ryan and I enjoyed for his 19th birthday on February 15, 2016.
What's also important about these pockets of other cultures are the grocery stores and other shops that provide the families from those countries with what they need on a daily basis. For example, stinky tofu is available in Asian grocery stores if you're into those kinds of dishes. 50 lb bags of Jasmine rice will be stacked toward the front, reach-ins will have the preserved products known as hundred-year-old eggs, jars of odd (to us) pickled vegetables will line the shelves, and freezers will contain seafood you've likely never seen before.
Mexican grocers will have meat cases containing different types of tripe for Menudo, beef tongue and heart, oxtail, and raw pig tails and ears. Muslim stores will have raw lamb of all varieties, some of which can be eaten raw as tartare, and the testicles of lambs and goats for various snack dishes. And Greek and other Mediterranean shops will have hearts, livers, kidneys, calves brains and a slew of other meats that any squeamish American should try.

Left: Ryan with his first squirrel, which he hunted in January 2015, and brined and fried for us. The meat was beautifully sweet and tender.
There really isn't much difference between some of the common hunting game in the U.S. and many of the dishes served around the world. My kids have had rabbit, with one hunting squirrel and cooking it for us. Many organizations in southeast Michigan offer muskrat dinners in the Lenten season as the muskrat are approved as a fish by the local Catholic diocese. Game dinners are common throughout the entire midwest, with dinner ranging from ostrich and alligator to fried smelt, squirrel, wild boar, rattlesnake, bear, and even kangaroo.
"Nose-to-tail" is how the world eats. It's nothing new. And you're probably not too far away from enjoying some serious delectable dishes that only your brain is stopping you from trying. Stop your American Squeamishness. Get out there and eat for real.

The freshly-fried chicken gizzards and chicken livers at the Pit Stop Pantry, a gas station located between Monticello and Monon, Indiana, as served to me on June 15, 2015.
Fried Chicken Gizzards and Livers
Ingredients
1 lb raw chicken gizzards
or 1 lb raw chicken livers
Buttermilk
1/2 cup corn meal
2 cups flour, all purpose
salt
pepper
1/2 gallon shortening, liquid or solid, or lard (not vegetable oil)
Drain the gizzards or liver in a colander. Pour the buttermilk into a glass dish and add the meat, ensuring the meat is completely covered. Refrigerate 24 hours.
In a large heavy pot or 3″ deep skillet, heat the oil to 350F (measured ith a thermometer), ensuring there is enough room above the oil to prevent overflow when the meat is added. Mix the flour and corn meal. Add the salt and pepper to taste, mixing completely. (Sifting together mixes it better and ensures better distribution on the met.)
To cook, shake the excess buttermilk from the meat, coat it with the flour mixture, and add it to the hot oil, making sure the meat isn't crowded. Fry for 5 minutes or until the coating is a crisp golden brown. (With a meat thermometer, the inside temperature should be 155F.) Remove to paper towel or lint-free cloth to drain before serving.